| | |
| --- | --- |
| | live scores |
| | prep |


| | |
| --- | --- |
| | tourism |
| | movies |
| | television |
| | personals |










| | |
| --- | --- |
| | john nichols |
| | trinity |
| | clinton |
---



ROAD CLOSURES

BIG-I FORUMS
Share road info, rant or share rides. CONNECT here in the Trib's Big-I forums.
---


Cerro Grande
fire stories

Click Trickster
for games
& entertainment


Low-key lawyer rubs elbows
with D.C. elite
Santa Fe lawyer John Pound was at the center of attention as he took a high-profile stroll with vice presidential candidate Joe Lieberman at the New Mexico State Fair.
|FULL STORY|
Sandpaper on the soul

Patti March spent five years searching for justice in the gunshot death of her troubled teen son, Gary. Along the way, she became a tireless advocate for others who lost a loved one to homicide. A man was recently sentenced in Gary's slaying, but the pain and the questions continue.
|FULL STORY|
State Fair:
Could this one break the records?
State Fair Commission Chairman Tom Tinnin said he believes the 2000 New Mexico State Fair will be the most financially successful in the 62-year history of the annual show.
|FULL STORY|

Weather turns nippy,
chilling people and plants
Albuquerque flirted with reaching the record low temperature at sunrise today, but came up two degrees short.
|FULL STORY|


---

(Click "Campaign 2000" for local election stories as well as for national campaign updates)
Yugoslav opposition
declares victory
BELGRADE, Yugoslavia -- Claiming victory in an election marked by fraud allegations, Slobodan Milosevic's opponents today warned that the Yugoslav president may try to rig the vote in a desperate attempt to keep the power he has wielded for 13 years.
|FULL STORY|

Head game
The Lobos are showing promise as they enter the MWC, but will Rocky's boys follow tradition and play with their heads in the clouds?
|FULL STORY|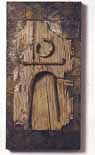 'ANKH'
This mixed-media work by Robert Hooten is on display in a three-person exhibition with painter Les Lilliston and printmaker Carol Sanchez. The show, titled "Elegant Abstracts," runs through Oct. 14 at the Coleman Gallery of Contemporary Art, 3812 Central Ave. S.E. Call 232-0224.
---


Making strides
Through Wheels for the World, an organization that repairs and donates wheelchairs worldwide, Debbie and Paul Faculjak are providing mobility turning dreams into reality across the globe
|FULL STORY|
Dulcinea . . . the sweet sovereign
of my captive heart
Nothing sadder than a dog with a broken heart. Dulce got hers the day Andy died. Her big brave brother -- coyote warrior, living-room clown, Mr. Personality -- was the only other being to which she had ever bonded. She adored him. Worshipped him. Watched every move, mimicked every act.
|FULL STORY|
A paradigm? Nope, but I did find
a nickel under the sofa


Steve Brewer
---
America loves business, and business loves buzzwords. These days, with the Internet economy booming right along, new words buzz their way into the language every day. Even people who have no connection with dot-coms find themselves spewing the geekspeak of computers and corporations.
|FULL STORY|
---
TV QUEEN
(For the week beginning September 23)


|FULL STORY|
---
---

© The Albuquerque Tribune.
Users of this site are subject
to our User Agreement. Please read it.
(Updated 10:26 a.m.
September 25, 2000)





Tune In My Music!


AutoStart Preferences
(PC only)



---
a d v e r t i s i n g








a d v e r t i s i n g
---
Click to view
additional Trib sections below